Running Man Guide Episode 153
RUNNING MAN EP 153
On Air : 7th July June 2013
Location :  South Korea
Theme :  Asian Dream Cup 2013 in China
Guest: Evra [Manchester United], Sulli [f(x)], Park Ji Sung and Koo Ja Cheol
On Air : 7th July 2013
Location : South Korea
Guest: Evra [Manchester United], Sulli [f(x)], Park Ji Sung and Koo Ja Cheol
Main : Yoo Jae Suk, Kim Jong Kook, HaHa, Kang Gary, Ji Suk Jin, Lee Kwang Soo, Song Ji Hyo
Brief details about the guests;
Choi Jinri (born March 29, 1994), better known as Sulli Choi or mononymously as Sulli, is a Korean actress, singer, dancer, model, and MC. She made her debut as a child actress in 2005. She is best known as a member of the five-member girl group f(x), formed by S.M. Entertainment in 2009. She was MC of SBS's Inkigayo from February 7, 2010 until November 13, 2011. She is best known for her role as Goo Jae Hee in a television drama series called To The Beautiful You (2012) with SHINee's Minho, and Lee Hyun-woo. Sulli attended Jungbu Elementary School (중부초등학교) and then attended Chungdam Middle School (청담중학교). She graduated Seoul Performing Arts High School alongside with miss A's Suzy and her classmate former A Pink Yookyung, while focusing on acting. Sulli is currently featured on her school's website homepage
Park Ji-Sung (born 25 February 1981) is a South Korean footballer who plays as a midfielder for English club Queens Park Rangers. He was also the captain of the South Korean national team until his retirement from international football. He is the most decorated Asian footballer in history, as the first Asian footballer to have won the Champions League trophy. Park is able to play anywhere across the midfield and is noted for his exceptional fitness level, discipline, work ethic and off-the-ball movement. Park began his football career in his native South Korea and played for the Myongji University team before moving to Japan to play for Kyoto Purple Sanga. After Park's national team manager Guus Hiddink moved back to the Netherlands to manage PSV Eindhoven, Park followed him to the Dutch side a year later. After PSV reached the semi-finals of the 2004–05 UEFA Champions League, Park's talents were recognised by Manchester United manager Alex Ferguson and he signed Park for a fee of around £4 million in July 2005. In his time at Manchester United, Park won the Premier League four times and also won the 2007–08 UEFA Champions League and the 2008 FIFA Club World Cup. He moved to Queens Park Rangers in July 2012 after suffering a reduction in his number of appearances for Manchester United the previous season.
Koo Ja-Cheol (born 27 February 1989) is a South Korean footballer who currently plays as midfielder for German Bundesliga side FC Augsburg on loan from VfL Wolfsburg and South Korea national football team. Blessed with technique and vision, Koo "has an uncanny ability to find the back of the net, often displaying a knack to charge into the opposition penalty box unsighted." Koo started football at age ten when a nearby elementary school opened its football club. During his early youth career, he mostly played as a defender, often taking sweeper role. However, he wasn't particularly outstanding and the fact he suffered from anemia also hindered him from gaining attention. In 2006, as a member of Boin High School, Koo participated in the Baekrok High School Football Competition that is annually held in Jeju Island. Leading Boin High School to a runner-up place with an outstanding performance, he grabbed the attention of Jung Hae-Seong, who was then the manager of Jeju United.
Patrice Latyr Evra (French pronunciation: born 15 May 1981) is a French international footballer who plays for English club Manchester United in the Premier League and the France national team. Originally an attacker, he primarily plays as a left back and is described as "the classic example of a modern full-back" who is renowned for his "pace, athleticism, and determination". Evra "offers a genuine attacking outlet down the left" and is also "strong in the air" despite his noticeably small frame. Evra, whom Sir Alex Ferguson praised for his leadership, has served as captain for both Manchester United and France.
Guest's Experience on Running Man :
Sulli [f(x)] : 4st time – She joined in Running Man EP.55, 75, 129
Park Ji Sung (Football Player) : 2nd time – He joined in Running Man EP.95,96 and 97
Koo Ja Cheol (Football Player) : 1st time – New Guest
Evra [Manchester United] : 1st time – New Guest
TEAM : 10 persons are splited into 2 teams
Green Team – Sulli [f(x)], Park Ji Sung, Yoo Jae Suk, HaHa, Kang Gary
Blue Team – Evra [Manchester United],Koo Ja Cheol, Kim Jong Kook, Lee Kwang Soo, Ji Suk Jin, Song Ji Hyo
 Details Guide For Running Man Episode 153 as below: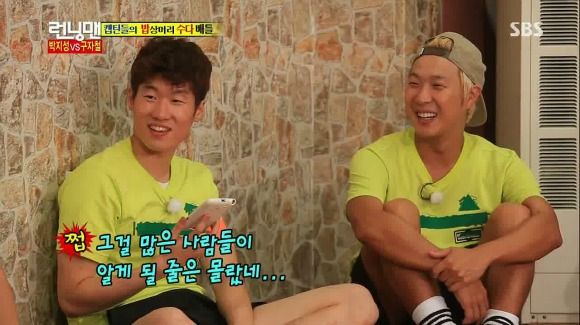 Rejoice! Park Ji-sung's back and he's better than ever with his sharp wit and blazing speed to visit the Running Man set for an hour and half of hilarity and fun. The cast is put through soccer bootcamp for a shot to play at the 2013 Asian Dream Cup. And yet with two (yes, you read that right) dreamy captains, how can you expect a girl to pay any attention to the sport? Why that would be just silly.
EPISODE 153. Broadcast on July 7, 2013.
We re-introduce Park Ji-sung to the show and most of the conversation is a rehash of last week's closing. It's as if the show tacked on his introduction at the end of what felt like a more filler-heavy episode to tell the audience: "Hold on, there's more!"
Anyway, the cast teases Ji-sung and his relationship with SBS announcer Kim Min-ji, with whom he was previously spotted at a chicken joint. Which explains why everyone laughs when Haha quips: "So I heard you ate chicken last night!"
Ji-sung confesses that he's still a faithful viewer of the show, which prompts Jae-suk to ask which ones were his favorites. He says dryly, "There weren't any that were as entertaining as mine." HA, and yet so true.
The staff has prepared video clips and Gary dearly hopes that they aren't of last year's Asian Dream Cup. (They are.) Then he nearly dies of embarrassment to rewatch all of his fumbles over again.
Not that Spartakooks is any better and Ji-sung provides commentary about how they fell below his expectations. About Jong-kook: "I was looking forward to your skills the most, but [you] weren't mentally prepared enough." Way to knock him down a peg or two.
Time to select teammates and the cast has been categorized by athleticism. Kwang-soo literally puts his best foot forward, only for Ji-sung to dryly acknowledge it and choose Gary instead.
He even has a little fun with Jae-suk and Jong-kook, lifting both arms into the air simultaneously. He ends up choosing Jae-suk.
The rejected still needs a leader, which is how we're (or is it we were?) introduced to Koo Ja-cheol, the 2012 Olympics national team captain. All the boys rush over to greet him, giving us a hilarious lonely shot of Ji-sung.
The love for the pretty (and younger) captain is overwhelming, and when the cast hears that Ja-cheol is a soon-to-be married man, they're all, We'll go to your wedding!
Ja-cheol tries his hand at one of the Running Man trademark moves (the "Hey~!" move Haha usually does with Jae-suk). When it doesn't work, Gary swoops in: "You want to be a part of Monday Couple?"
Back to the mission at hand, where the cast will undergo rigorous training to try and grab one of four spots on the Dream Team. Ja-cheol looks to his sunbae and jokes: "[Do we need] four?"
It's Team Park (Ji-sung, Jae-suk, Haha, Gary, and Sulli) versus Team Koo (Ja-cheol, Jong-kook, Suk-jin, Kwang-soo, and Ji-hyo).
After everyone changes into their uniforms, they gather together again for a game of jokgu(think of it like a mix of soccer, tennis, and volleyball). The ladies are given a handicap in the form of gloves and the team who wins best out of three sets wins.
They start off softly and Team Park gets their first point when Jong-kook doesn't kick the ball quite long enough. At least that's still better than first-timer Ji-hyo who recoils at an oncoming serve. (Her teammates don't give her any grief about it.)
Things are about to get interesting when Ji-sung tags into the game. Jong-kook drops the ball after a failed headbutt, and Kwang-soo leads the team to call for a switcheroo. And then Ja-cheol takes him out instead. Ha.
The score is 0:4 in favor of Team Park, and Ja-cheol has the opportunity to strike. He kicks… and it hits the net. The soccer star gets subsequently scolded for it and Haha jokes that the other team's black holes are the two athletic powerhouses, Jong-kook and Ja-cheol.
He has another shot the very next round… and it hits the next yet again. Puhaha. The third time's the charm but the rookie captain is then promptly outshone when Ji-sung volley kicks the ball over the next a minute later.
Aw, Team Koo actually does better without their captain, who has now assumed a temporary role as gong ringer. They're only two points behind now, and even Kwang-soo is surprisingly good at this game.
When his team points out as much about how well they're doing without him, he promptly walks over to cheer for the other team. Hahaha.
Ja-cheol is brought back into the game soon enough and proves his worth with a striking kick and ties the score 7:7. It's not long before a kick sends the ball right at Kwang-soo's family jewels. He doubles over from the pain as the cast bursts laughing.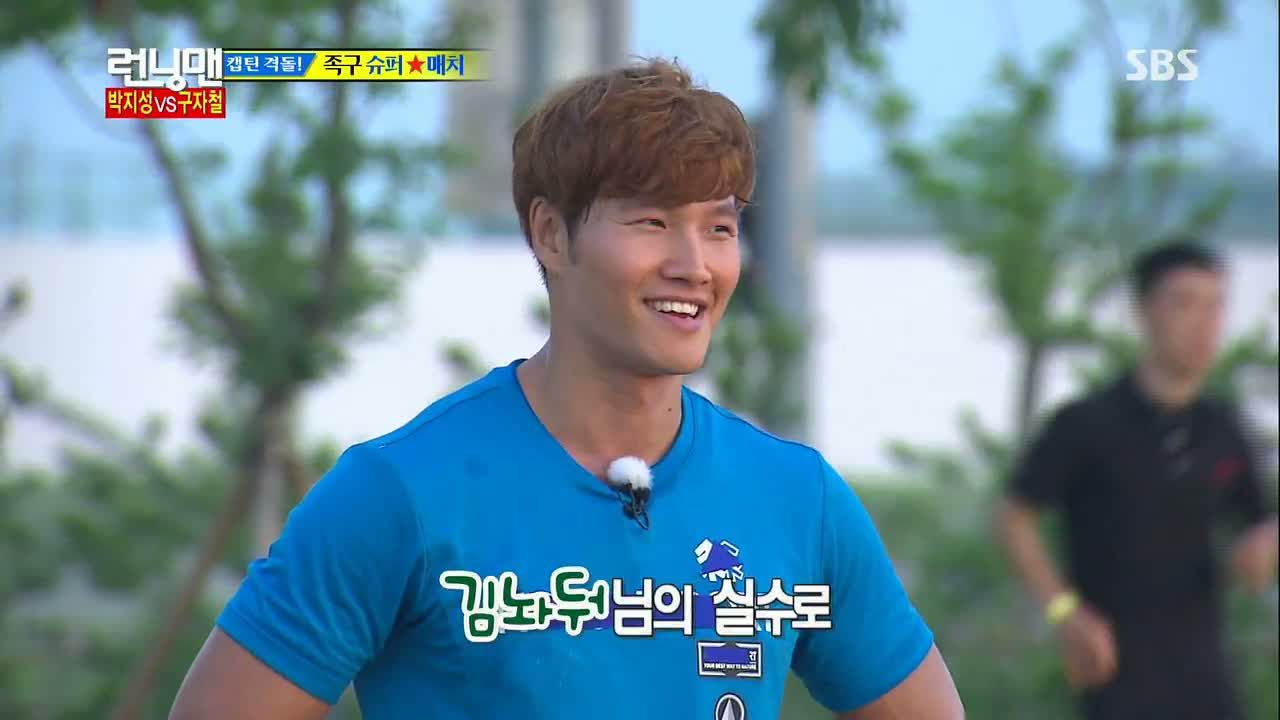 Things get serious when Team Koo is a point from winning the first set, but Team Park is none to be trifled with given their clean passes and unified teamwork. A powerful kick by Ja-cheol drives the ball over the net, but what's even more impressive is that Haha actually receives it.
It throws Team Koo into a state of panic and eventually Kwang-soo kicks the ball out of bounds. It's deuce and another error on Jong-kook's part gives the other team another point. Is jokgu Spartakooks's kryptonite?
Jong-kook tries to redeem himself by diving for the net head-first. But the ball hits the net and gives us a big laugh. The cast teases him for it 'cause it looks like a deep bow ("Who are you greeting?") and it sparks a new nickname: Kim Leave It.
Each of the teams strategize and it cracks me up how both teams are like: "They haven't caught on that we're going easy on them, right?" Of course, it sounds more thick-skinned on Ja-cheol's part but his team laughs about it anyway.
Oh thank goodness, we skip ahead to the third and final set and the teams have won one set each. Team Park starts off strong and takes to mimic Kim Leave It's hilarious bow.
Even Jong-kook finds it amusing and everyone does it every time they apologizes to one another. It's actually quite amusing to watch Jong-kook's poor jokgu skills in motion.
At one point it looks like Ji-sung is about to miss, but then he kicks it up behind him as it bounces back into the air. Whoa. Pair that with some solid teamwork and Team Park gets another point.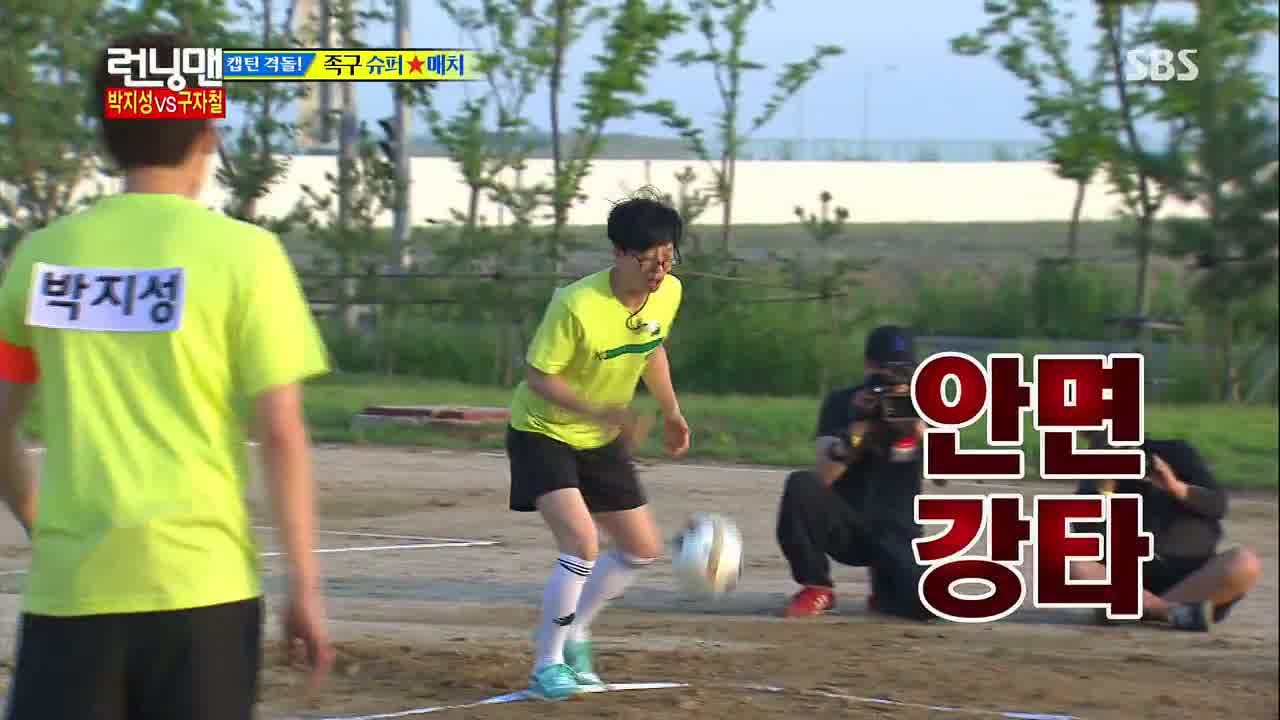 I'm just about to say that Team Park actually exceeds my expectations when Jae-suk takes a ball to the face. Or is is the other way around? In any case it's pretty hilarious. Rewind, replay!
He totally plays it off all, That's how you play sports on variety! Ahahahaha, give me a minute here. Ahahahahaha.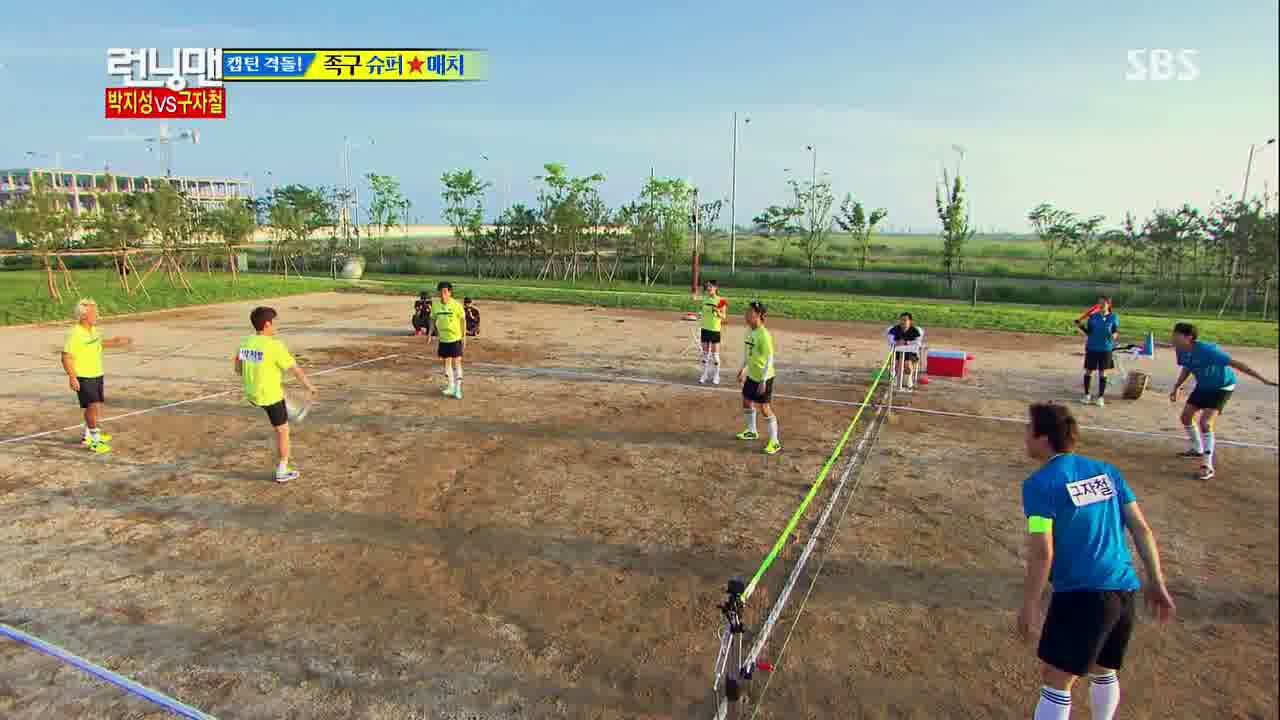 The teams are at deuce once more and Team Park pulls ahead when the ball hits Suk-jin's head before it goes out of bounds. But it's brought back to deuce… and it happens a second time. Heh.
A little while later, they hit deuce again (the score at 13:13) and this time, it's Team Koo who gets a point. We don't cut away again as the teams face off in an impressively long relay and encounter some dangerously close saves.
Gary dives to send the ball over with a headbutt and it lands close to the boundary line. Is it in or out? Another shot shows us it's out, which means Team Koo wins the match.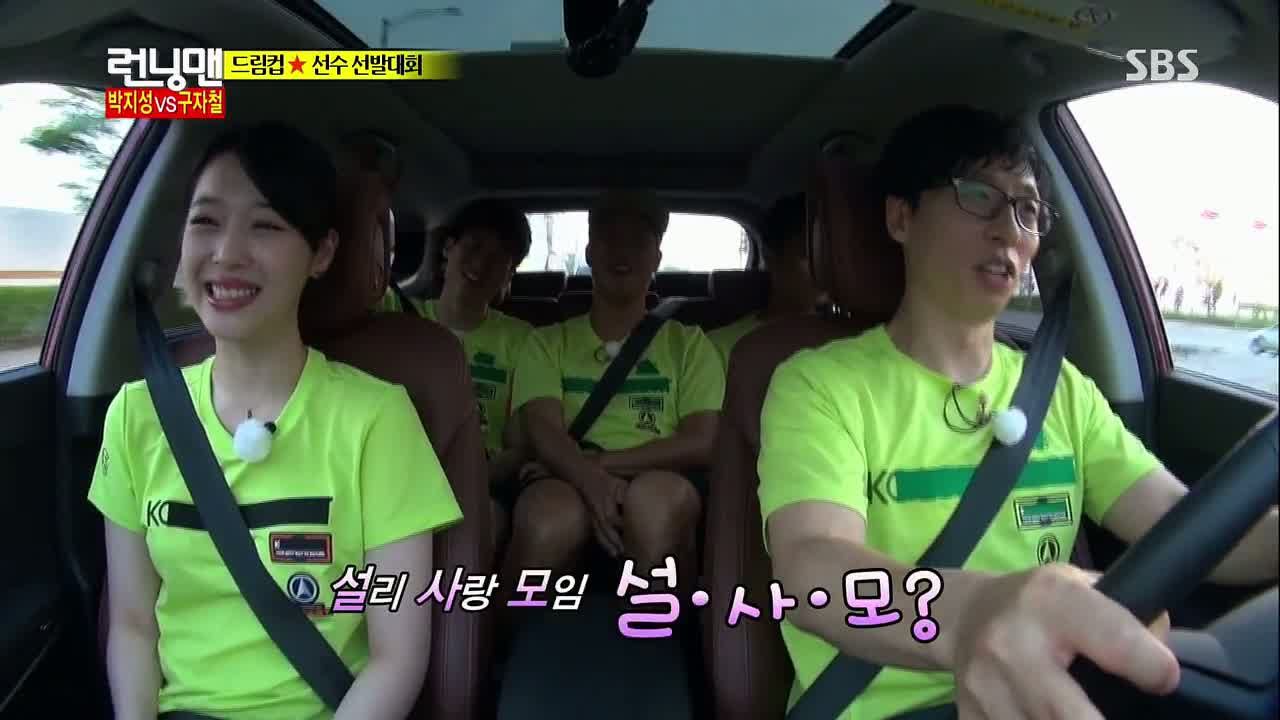 In the car, Sulli raves over how impressive her teammates looked on the field. To that, Haha asks how they did on a scale of one to ten, adding: "Guys like hearing that!"
They in turn compliment how pretty she looked today and Jae-suk suggests they call themselves "Sulsamo" which is short for "a group who loves Sulli." But the abbreviated pun contains another entendre since sulsa also means diarrhea in Korea. Which, ew.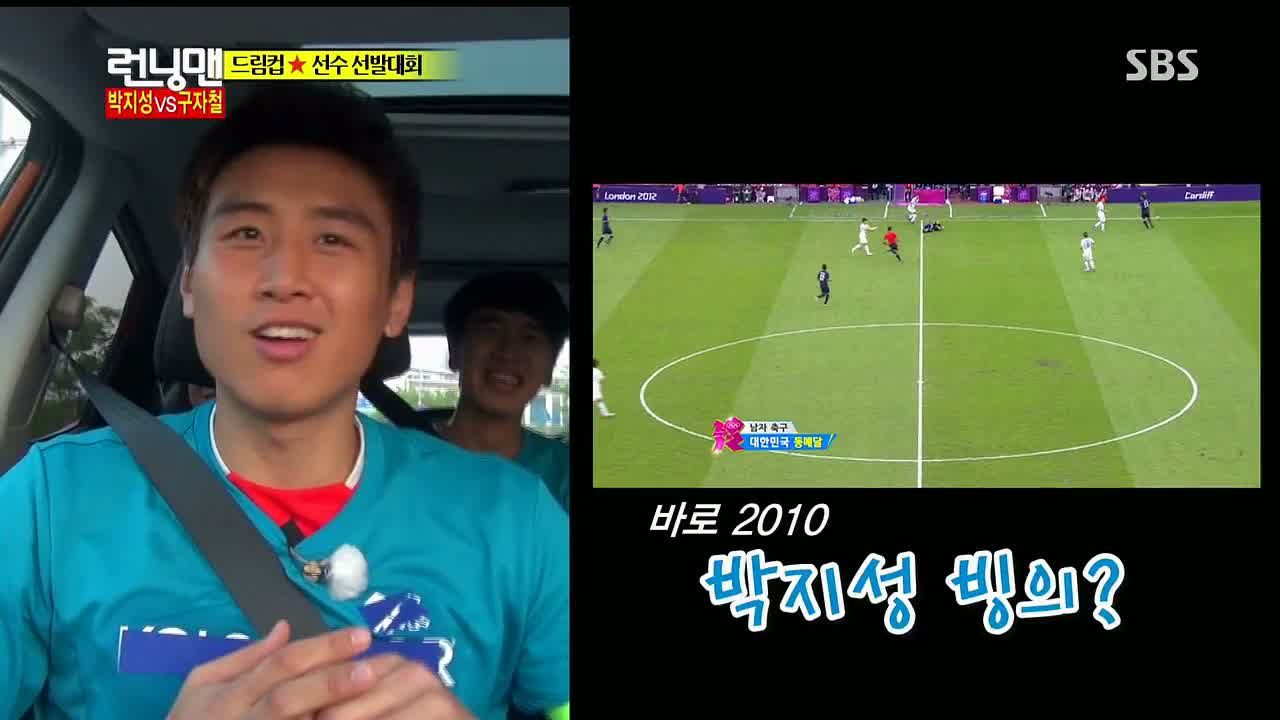 In the other car, the cast asks after Ja-cheol's infamous "Why?! Why?!" cry in a match against the Japanese national team during the London Olympics. Ja-cheol explains that he was so moved by sunbae Ji-sung's determination to tackle a ball away when it was stolen from him in a game two years ago.
So when he did the same in the match last year, he was infuriated that he was called out on it instead.
The teams arrive at a restaurant and Ji-sung immediately raises a suspicious eyebrow when he's told to merrily eat and drink… for now.
The setup reminds them of IU's visit on set, so Jong-kook asks if there's anything that Sulli would like. (To jog everyone's memory, including mine, it was a running joke that Jae-suk would buy a car for IU's birthday.) Sulli has seen the episode, so she tacks on her request: "A house!"
The cast continues to add to the joke (Suk-jin: "If Jae-suk buys you a house, I'll get you wallpaper!"), and Jong-kook points to Ja-cheol all, How 'bout a house for the newlyweds?
Jae-suk places that burden onto Ji-sung's shoulders, saying how the sunbae should be the one to extend that gift. Ji-sung doesn't skip a beat and says that he could as long as he gets one too when he gets married. HA.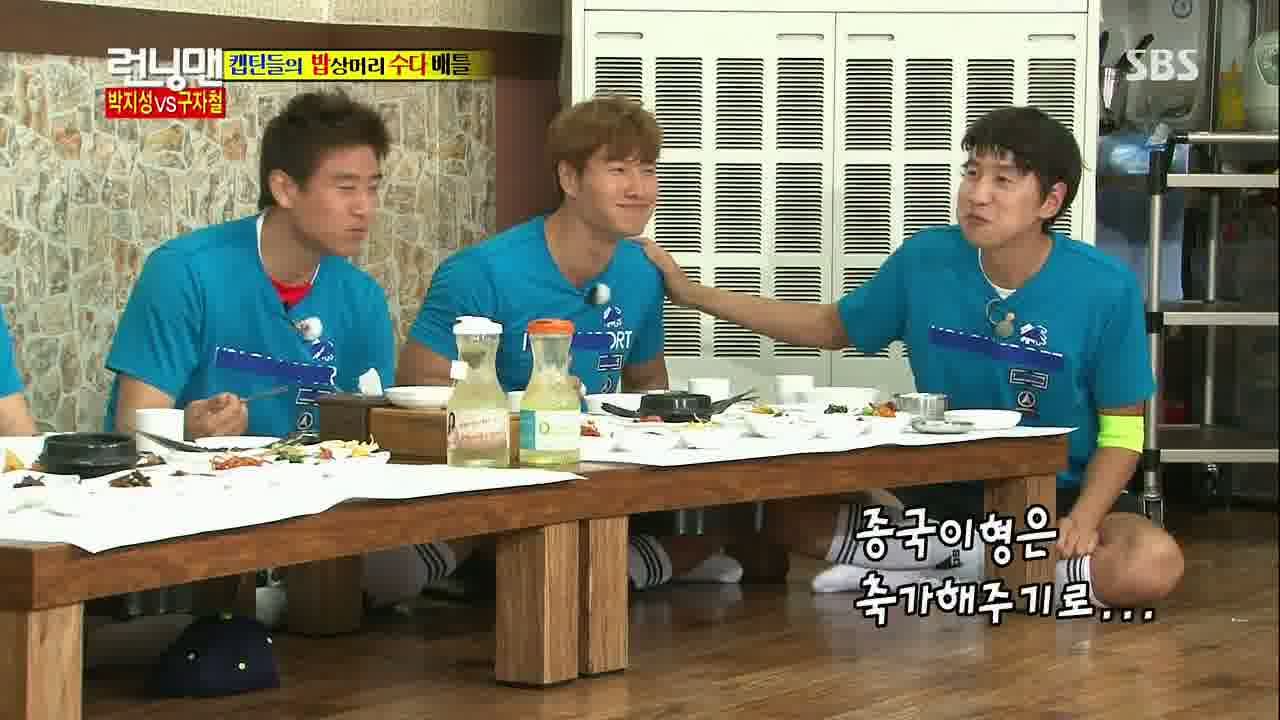 They have some more fun with the joke, talking about how Jae-suk should preside the event and how Jong-kook will sing the congratulatory song. Kwang-soo: "He's going to sing shirtless!" Wait… can I go to this wedding?
The conversation turns towards Kwang-soo, whom the hyungs tease that he'll never get married. Kwang-soo answers that he's still relatively young, to which Jae-suk jokes about how the maknae looks older than his actual age.
Jong-kook adds onto this discussion and shares how surprised their captain was to learn that Kwang-soo is actually donggap (the same age) as Song Joong-ki. That is one priceless: "Huhhh?!"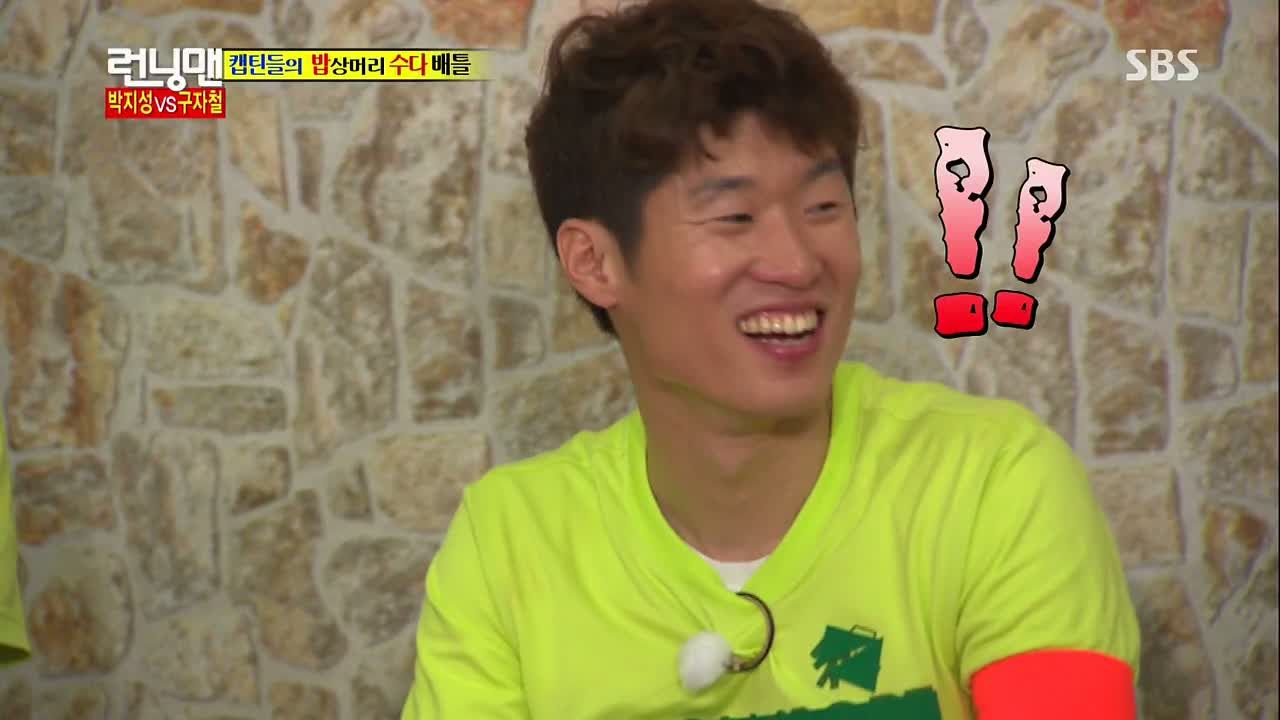 I love how uncomfortable Ji-sung gets at any mention of his announcer girlfriend, and the cast is eager to get the inside story about them. Haha claps to "signal" that the cameras will stop rolling, and Ji-sung just claps again.
Ji-sung remains pretty tight-lipped about his ladyfriend, but when Suk-jin says that she seems like a nice person, he returns: "Do you know her [well]?" Puhaha.
Aw, it turns out that Ja-cheol hasn't proposed to his fiancee yet (he says he will soon) and Jae-suk admits that he kept his proposal simple. That leads to another bickering round between Jae-suk and Jong-kook, who says that the nation's MC is the tiring type.
The childish squabble continues with Jong-kook saying that his future wife will likely get along with Jae-suk's wife since they'll have so many things to complain about together.
Then Gary drives a nail into Jong-kook's coffin: "I think [Yoon] Eun-hye's still waiting!" Hahaha. Man, I love how this running joke still sends me in a fit of giggles.
Ja-cheol's proposal sounds super sweet (he's getting two actors to play out their six-year love story via musical), and he says it's because he's always on the receiving end. To that, married Jae-suk wisely tells him: "Stay on the receiving end!"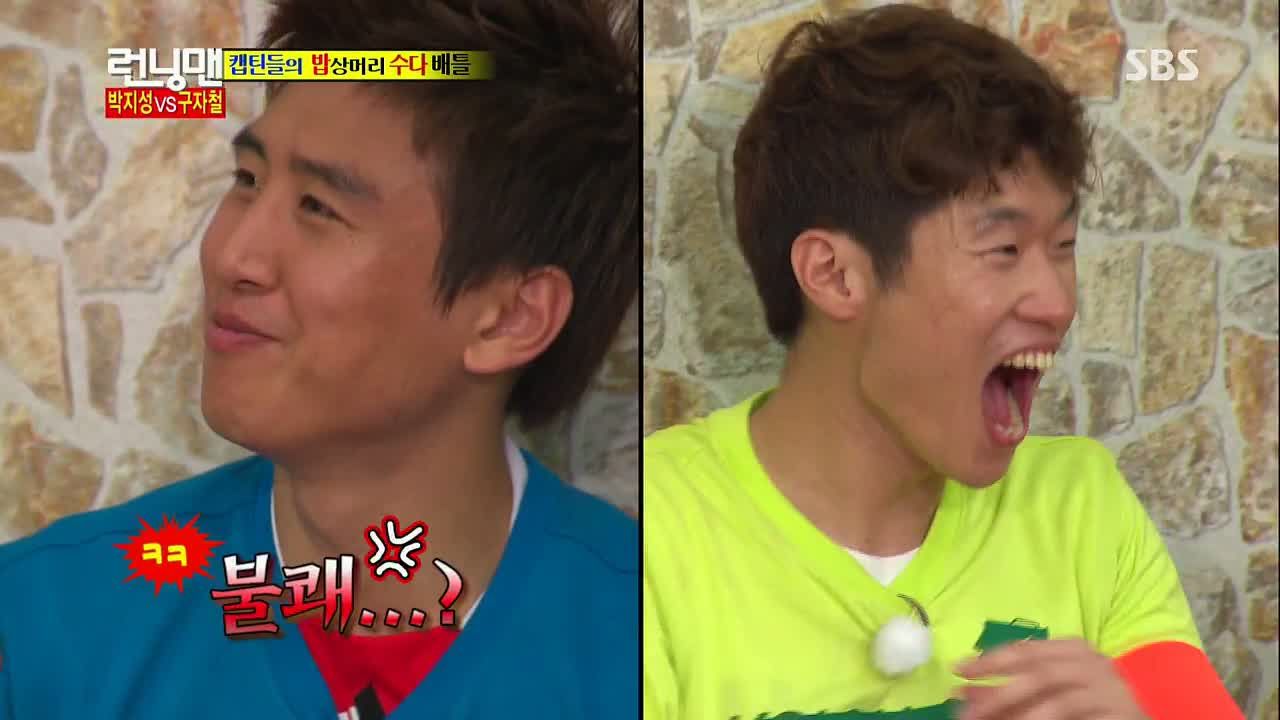 Bellies now stuffed, the cast plays a game of Hot Potato Conversation where the one stuck with the phone when the alarm goes off is eliminated. Suk-jin hands the phone to his own teammate, who in turn asks his sunbae why he was at the Han River.
Ji-sung: "I ate some chicken… but I didn't know so many people would know about it." HA.
At one point, Sulli is asked which soccer player she likes better and Ji-sung beams when she names him. Hey neither of you should look *that* excited nor disappointed—you're taken men now!
A bit later, Ji-sung says a cute "I love you!" to his special someone and hands the phone to Kwang-soo. He in turn asks Sulli to rank the members by beauty. It's an attempt for her to use up more time, but it hilariously backfires: "Oppa, you're dead last."
Kwang-soo manages to hand it off to Haha, but it ends up in his hands a moment later with the question "You've dated a celebrity before, right?" He freezes.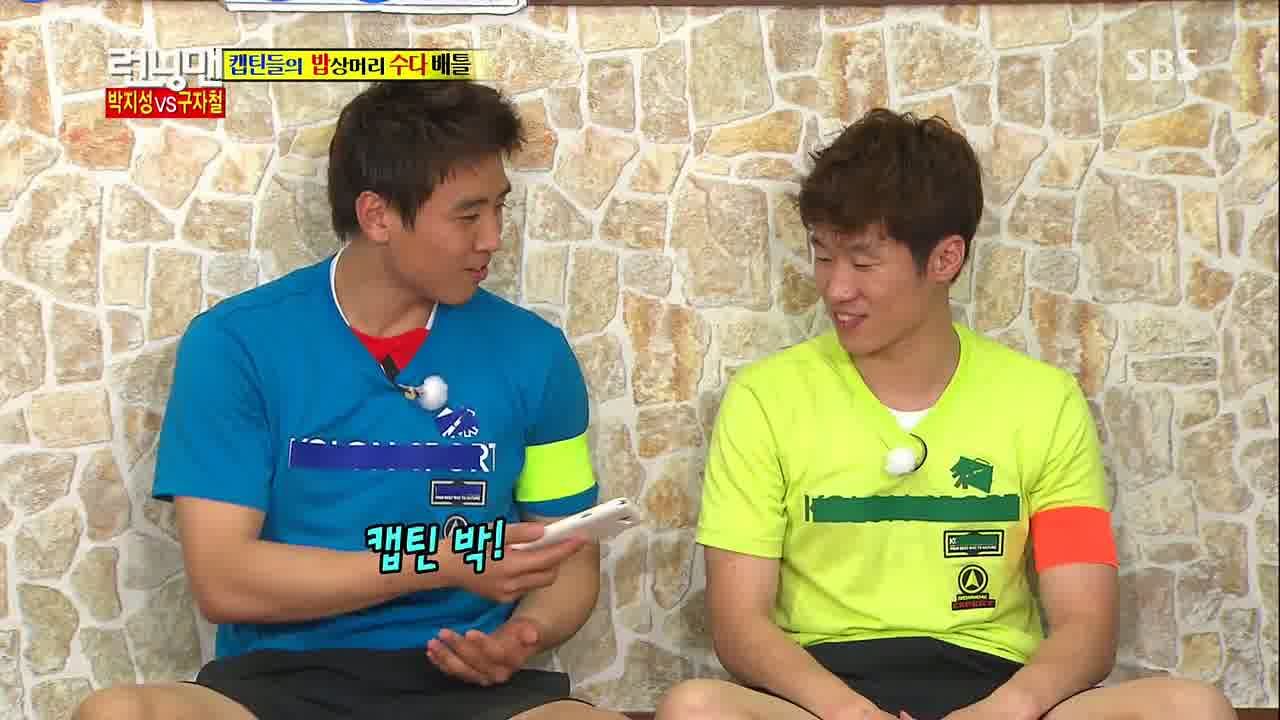 Some of these questions have me rolling on the ground, especially the topic about first loves. Suk-jin is hesitant to say that his wife is his first love, and Haha easily sidesteps the same question with: "[My wife] is my last love."
Later, it's down to the two soccer captains who exchange respectful questions. Then everyone's ears perk up when Ja-cheol asks if sunbae if he has any thoughts to rejoin the national team.
They wait for an answer… and the alarm rings. Gah, now we'll never know!
Luckily for us, Ji-sung broaches the topic again when they're in the car. He says that the answer is no with the rationale that his time to shine has passed.
Rejoining the team would mean taking the spotlight away from his soccer hoobaes and potentially create an imbalance among the team's dynamics. At least, that's how he feels at present.
It's a humble and heartwarming answer as he explains that he's a different person now than he was two years ago (in the 2010 World Cup). Ack, how I wish that more celebrities with similar national-level adoration could arrive at that same realization that the glory days don't last forever.
At the final mission location, the cast arrives to see a board with large and small-sized nametags. The ladies are led inside, blindfolded, as this mission is entitled Save the Queen.
As for the boys, they'll be able to enter the buildings as soon as any member kicks the nametag on the board. Ji-sung kicks first… and misses the board entirely. Hee, so much for being a national soccer player and Ja-cheol buries in face in embarrassment.
Ja-cheol aims for his own nametag square, but he also misses. Hahaha. The cast quickly covers his mistake all, You did it on purpose so your sunbae wouldn't feel bad!
It's pretty surprising that virtually all of the cast members miss the board and doubly hilarious to watch Kim Leave It (aka Jong-kook) uphold his new nickname as the ball soars high above the board.
Both Ja-cheol and Haha are sent inside first with enlarged nametags, and Ja-cheol radios Ji-hyo as soon as he steps inside. Lucky for him that he manages to find her right away even though she doesn't know her specific location.
At least Sulli is able to inform Haha what floor she's on and she calls out to Haha when she hears that the coast is clear for now. Now that both teams have found their respective queens, they all relocate to a different location.
Suffice it to say that Jong-kook misses the board again by a long shot, and then Ji-sung kicks Kwang-soo's small nametag down. He at least sends Gary in with a small nametag.
I love how Ji-sung is able to predict the course of Jong-kook's kick to a T even before he even kicks it. He even surprises himself a little to find how accurate his predictions are.
Inside, Kwang-soo's poor radio signal garbles the important info that Ja-cheol tries to relay to him. They eventually agree to meet on the tenth floor, but on his way up, Kwang-soo runs into Team Park. Haha slyly asks: "You alone?" Ruh oh.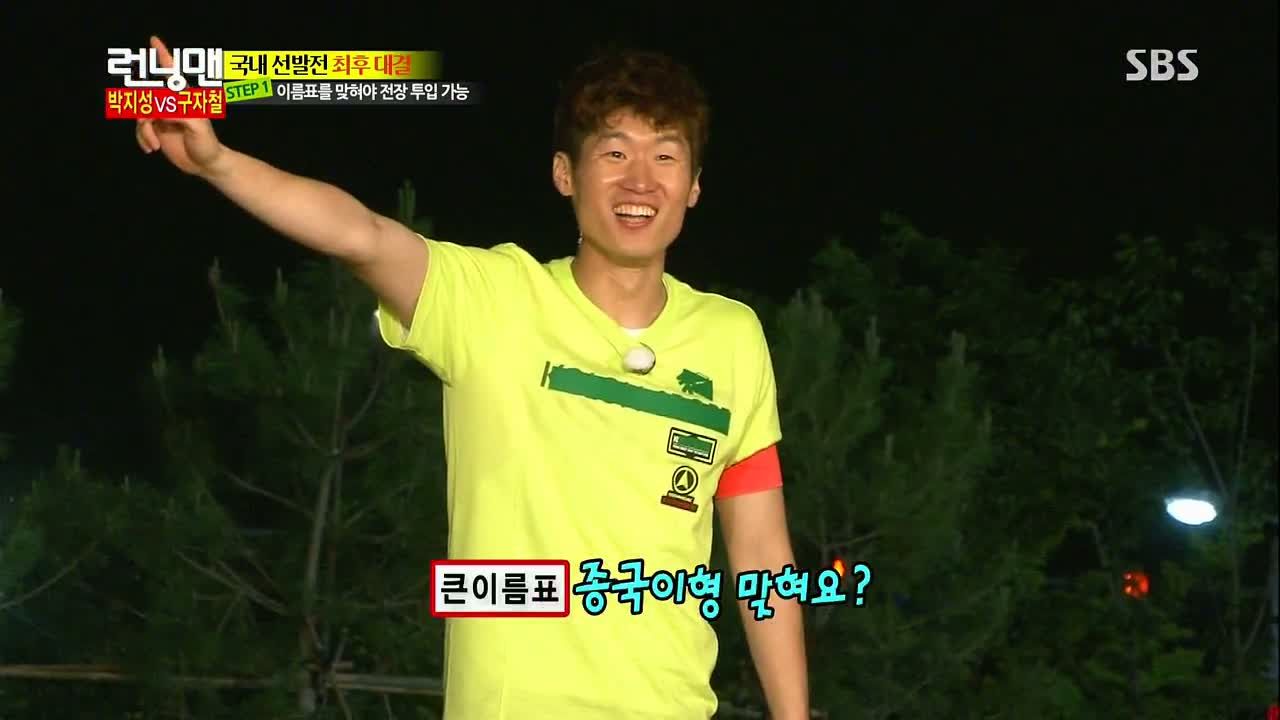 They jump at the opportunity to eliminate Kwang-soo, who sends a SOS to Ja-cheol. This also means that no one is left to protect the two queens. Kwang-soo manages to slip away but his captors are still hot on his trail until they give up for now since protecting Sulli is their top priority.
Kwang-soo and Ja-cheol have a teary reunion and they wonder what the hell is taking Jong-kook so long to get in the game. Well that's because he's too busy hitting home runs instead of kicking goals, hee.
After Ji-sung sends Jae-suk inside with a small nametag, he asks: "Should I try to hit my nametag or Jong-kook's [big] nametag?" He tries for the latter, but it hits the post instead.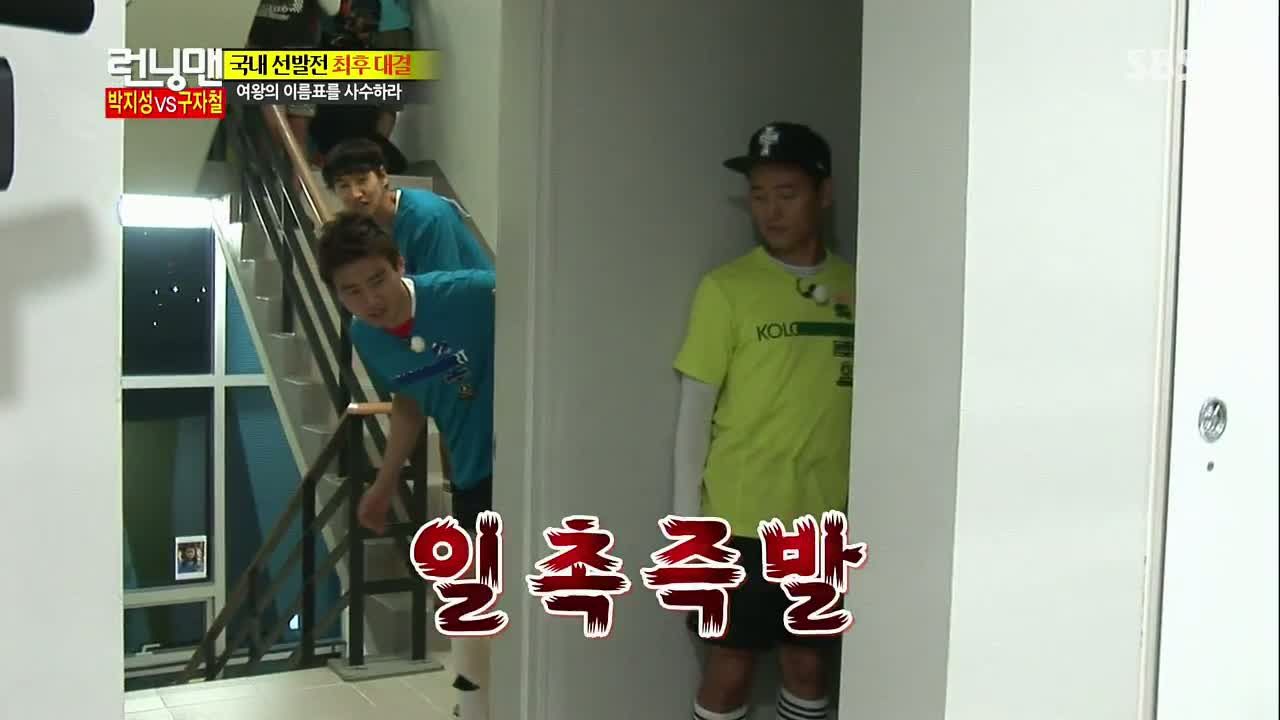 Sulli sends her teammates out with a hypothesis on the general direction Ji-hyo headed off to. They hear the sounds of approaching footsteps on the stairwell and hide in the corner. Heh, I love how Team Koo decides to take them on and then quickly turn around once they realize that they're outnumbered.
They're followed up the stairs and the teams circle around each other, sizing each other up. But then Kwang-soo's back is exposed and is taken out in an instant.
Ja-cheol makes a run for it and he sure wasn't kidding when he said he was fast, because the others (and his poor VJ) are unable to keep up. At that moment, Jong-kook's entrance is announced…
…and Spartakooks steps inside with his oversized nametag. Heehee. Ah, so Ji-sung managed to kick the corner square after all, and then pretty much doubled over laughing.
Team Park spots the other team from the third floor but doesn't approach them just yet. Then Ji-sung's arrival is announced and he promptly calls his teammates.
They have a pretty good view from their angle and while Ji-sung is light on his feet, they all parrot warnings to him at the same time.
He's quick to relay that their team has the advantage in both numbers and nametag size, but they're still relatively cautious when they run into Jong-kook and Ja-cheol.
But they're confused when Team Koo retreat instead of attacking them. That's because Team Koo has realized that Sulli has no one to protect her, so they head out to find her.
Ji-sung still feels guilty about Suk-jin, who's still outside trying to kick his own nametag down. He tries over and over and over and over again to no avail. He spends so much time trying that the staff says that they have to change tapes out. Aww, is he going to be out here all night?
Thankfully, he manages to kick his own nametag, albeit a big one. But what's important is that he finally gets to be a part of the action.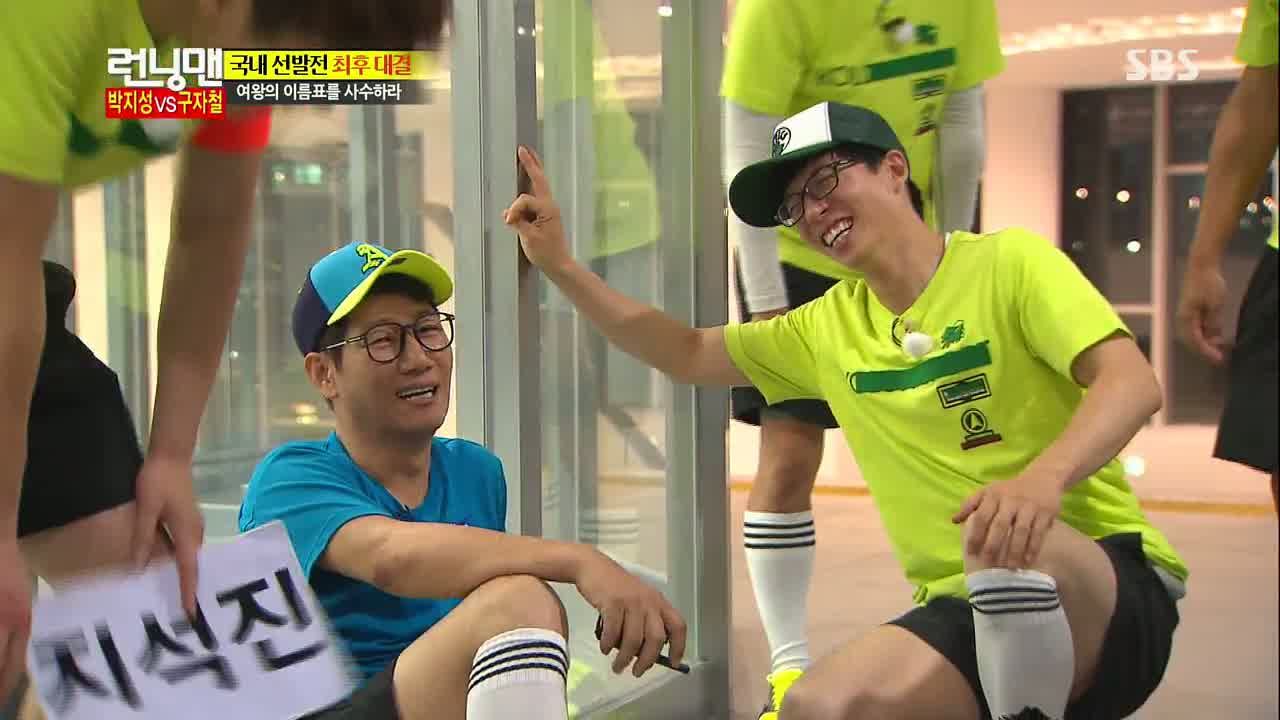 Little does he know that Team Park is waiting to ambush him and Ji-sung silently follows to sneak up behind Suk-jin (seriously, you can barely hear him run!) Therefore it's too late once Suk-jin catches on and he's eliminated in less than thirty seconds.
Aww, then it's hilariously sad when he cries: "I juuusttt got in! I've been kicking soccer balls for two hours!"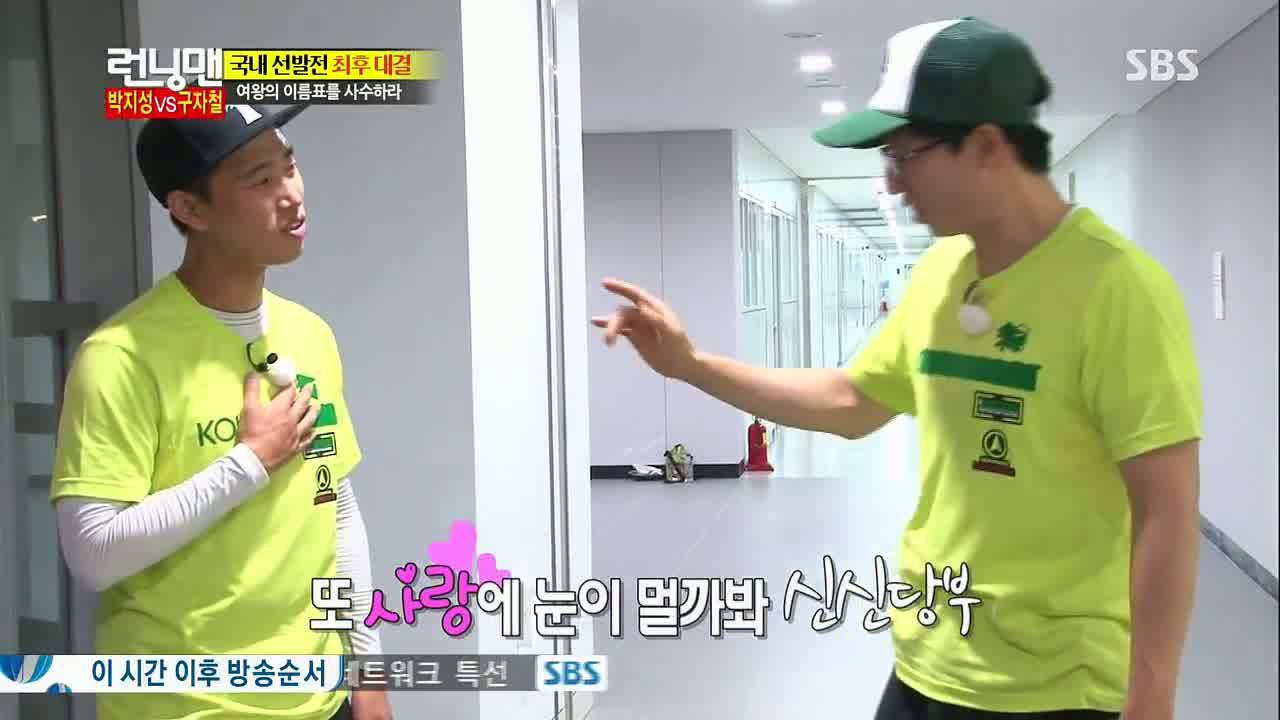 With plenty of teammates to go around, Team Park divvy up roles to maximize their efforts. Gary is assigned to find Ji-hyo and firmly reminded not to let his love get in the way.
Even though he promises to stay focused, Jae-suk can't help but worry if he'll actually follow through. And given his delicate tone as he calls her name, I'd say Jae-suk has reason to worry.
He's just outside the door now and Ji-hyo hurriedly whispers for her teammates to come. The door slowly opens… and he hesitates. Keh!
Aw then Ji-hyo looks up at him with innocent doe-like eyes and whispers: "Are you going to rip off my nametag?" Gary falters a little.
He averts his eyes and tells her: "Don't look at me like that. I'll grow weak."
He asks if she remembers that rainy night at the soccer stadium years ago when they were in this same predicament. Eee, I'm getting butterflies in my stomach just watching the old clip again. Older fans will know that he let her go free back then, and in the present, he wrestles with himself, wondering what he needs to do.
But before he can arrive at an answer, the door flies open. It's Ja-cheol, here in response to Ji-hyo's SOS. She stands there idly as Ja-cheol eliminates him with a final word of comfort: "Just break up now."
He's in a dejected and pissy mood, but that frown turns upside-down as soon as Ji-hyo wraps her arm around him. Heehee.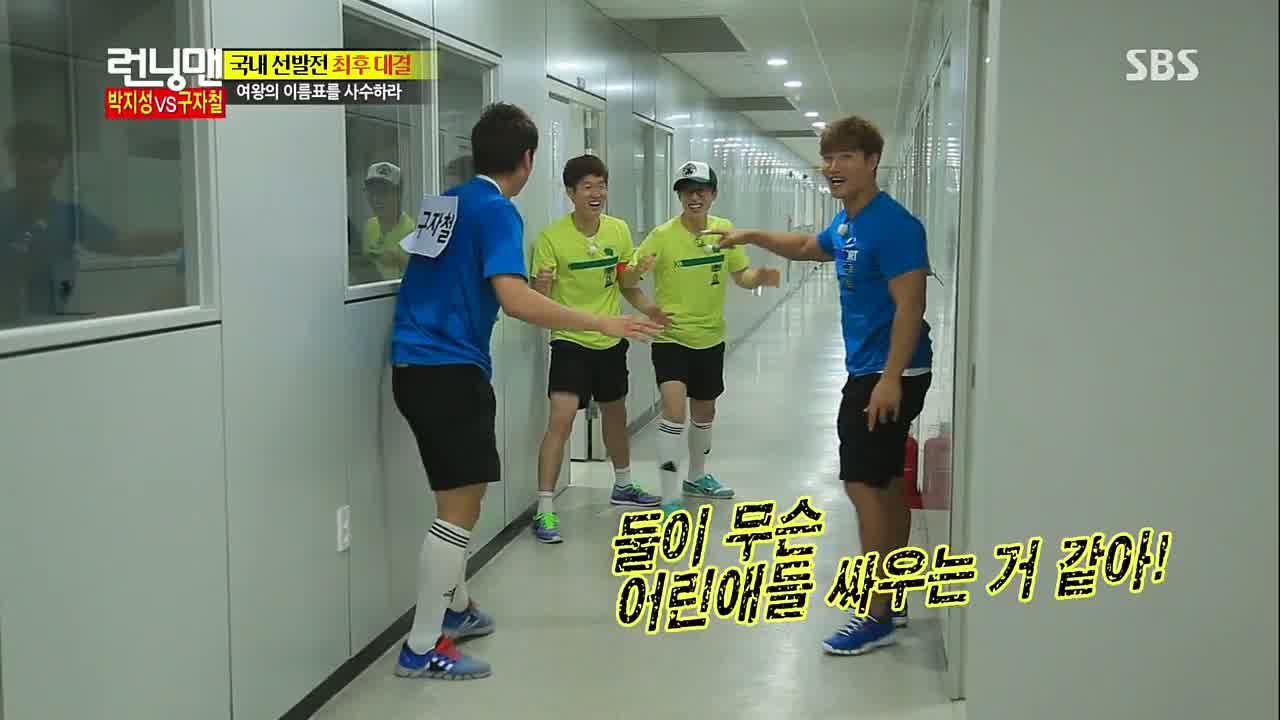 Elsewhere, Jae-suk and Ji-sung run into the remaining Team Koo members. They circle around each other, and even in this tense moment, Ji-sung jokes: "[Jong-kook] is so strong, but he's always hiding."
The soccer captains and the Running Man team leaders face off but call a timeout a minute later for Jong-kook to note that the soccer players look like they're in a catfight. Ha.
Things get increasingly intense as hands reach across to grab for nametags. At the end of the scuffle, both Jae-suk and Jong-kook eliminate each other.
Now only Ja-cheol is left to protect Ji-hyo and Team Park figures that there's no need to hide any longer. They freely roam the building in search and find the two on the roof.
The boys take on Ja-cheol and Sulli moves towards Ji-hyo. But the Ace whips around to evade the attack. Unfortunately, Haha joins the ladies and helps Sulli get ahold of Ji-hyo's nametag… and eliminate her.
Thus Team Park is granted the chance to appoint two Running Man members to join the Dream Team, and everyone congratulates Ja-cheol on his upcoming marriage. After some closing remarks, he froggy-dances to clap for the ending slate. Next stop: Shanghai!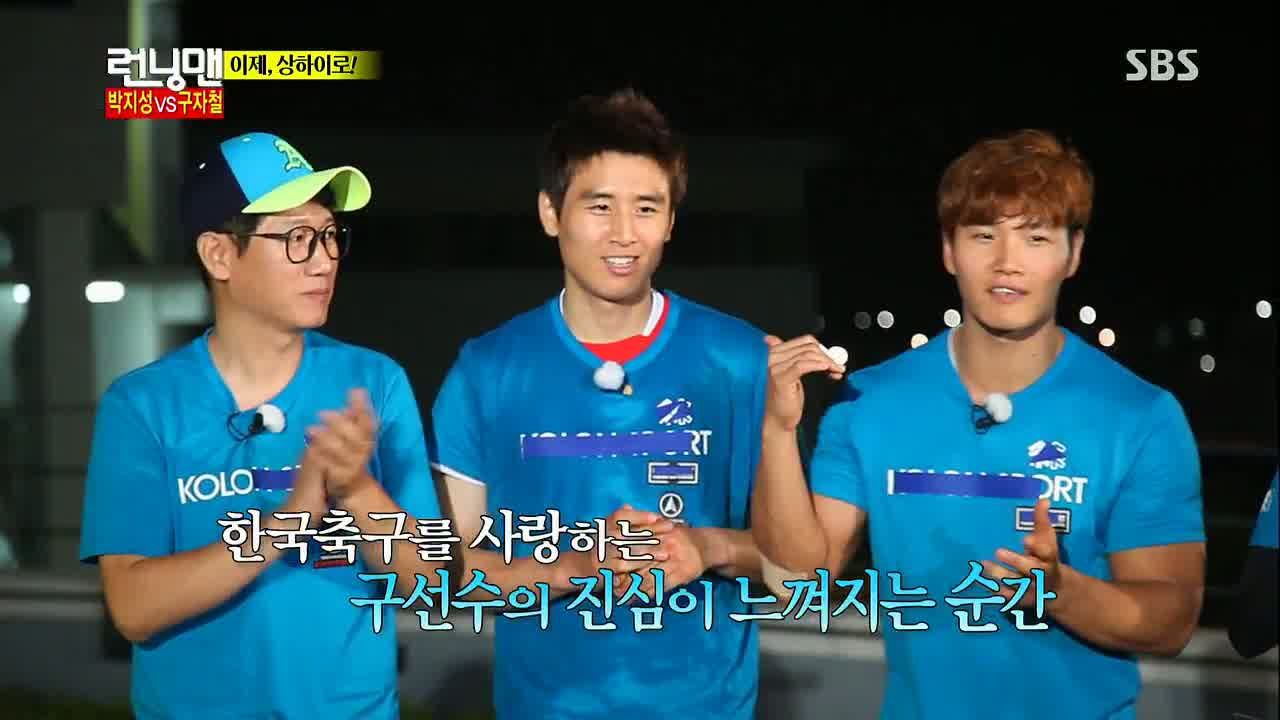 Full Credit – dramabeans
Please drop your comment below to show your support =D
You may also like to read
Filed under: Running Man Eng Sub [Guide]
Trackback Uri
2 Comments.
Trackbacks/Pingbacks